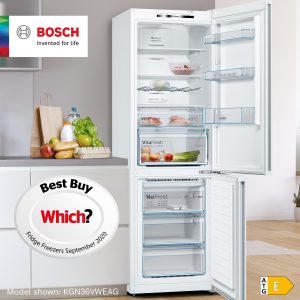 Suitable to store the whole family's food shop, the tall KGN36VWEAG has a total usable capacity of 324 litres. NoFrost technology will keep ice build-up at bay, while the high A++ energy rating makes the appliance kinder on your pocket and the environment.
This freestanding fridge freezer is exclusive to Euronics and Agent stores, so you won't find it anywhere else.
Innovative Cooling Technology
Offering a variety of cooling functions, this Bosch fridge freezer will keep its contents at their best, maximise storage space, and help you find things with ease.
Through the Multi Airflow System, there is an even distribution of air across the compartments of the appliance – keeping food fresher for longer. You'll also find the VitaFresh system, which keeps your chilled items crisp and tasty.
NoFrost technology prevents ice building up inside the KGN36VWEAG, giving you the best use of the available capacity. Plus, the worry of manually defrosting your fridge freezer will be a thing of the past.
Find everything quickly via the EasyAccess shelf, which pulls out for you to add and remove items hassle-free.