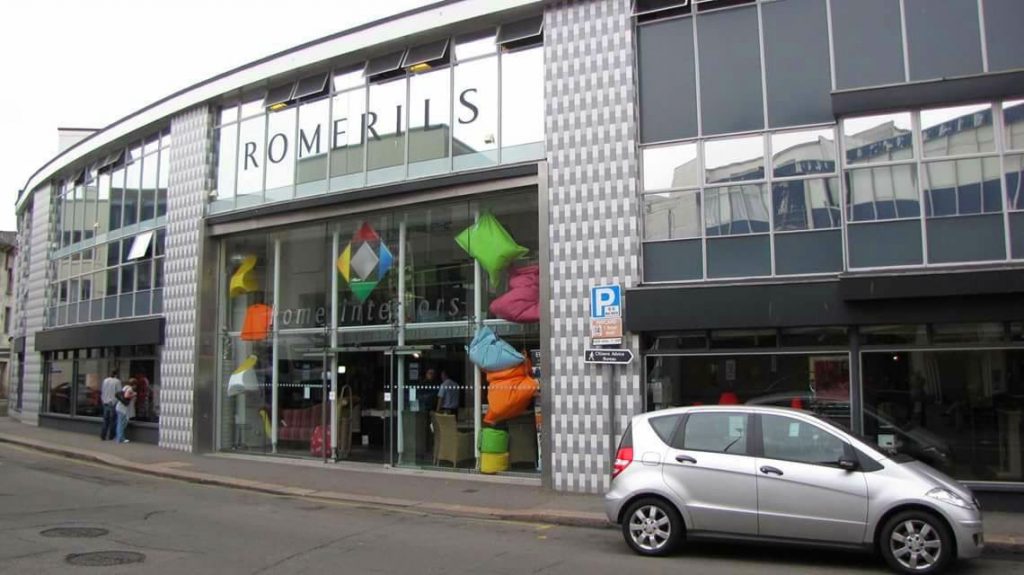 Romerils is a locally owned and managed company that has been trading since 1950, and operates from two sites – Dumaresq Street and La Collette – with over 150 employees.
Our Dumaresq Street branch has been developed into Jersey's leading retail home interiors store. Whatever your choice of design and style inside or outside your home, there's something for you at Romerils. Our trade business operates from La Collette, as well as our warehousing and transport activity. Here we primarily service the construction industry, but the La Collette shop is also open to retail customers.
Core and Values
The Company's overall aim is to exceed the expectations of our customers through the quality of our customer service whilst providing a friendly and supportive working environment for our staff. One of the key components of the Company's continued success is our reputation as a long-standing, trust worthy, locally owned and managed company, delivering excellent customer service from the quality of our products, through to service and delivery. At the heart of these activities run our core values. These are what make Romerils what it is today and differentiates us from our competitors. We hope that by having a defined set of values we will continue to be successful whilst continuing to build a company culture of honesty, openness, fairness and flexibility, in a quality shopping and working environment.
Honesty and Integrity
We display honesty in all our working relationships, with our colleagues, customers, suppliers and other external contacts. We are truthful and candid, keep our promises, and deliver on our commitments. We apply the highest ethical standards in all that we do.
Customer Focus
We never lose sight of what really matters: the satisfaction of our customers. We pride ourselves on delivering excellent service and an unsurpassed product range, including market-leading, innovative products to suit all customer needs, offering value for money.
Respect and Fairness
We care for our staff and treat them fairly and with dignity and respect. We extend the same level of respect and fairness to our colleagues as we do to our customers.
Teamwork
By supporting colleagues and sharing ideas, working co-operatively and adopting a strong sense of team spirit, we will all achieve objectives more easily and create a sense of community and pride in how Romerils' operates as a business.
Environment
With the ever-increasing pressures on our planet and ultimately the people living on it, we are always looking for environmental benefits. This applies to the way we run our organisation as well as the products we select to take to market.
Appreciation
Our success is, and always has been, essentially due directly to all of us. It is us, our hard work, continued support and determination to do our best in everything we do that makes us thrive.
Our range of products and services can be found at the following:
Dumaresq Street
Bathroom & Tiles
Bedroom Furniture (fitted and free standing)
Decorating
Electrical Appliances & accessories
Fireplaces
Garden & Conservatory furniture
Ironmongery
Key cutting service
Kitchens (fitted)
Kitchen appliances (small & large)
Lighting
Lounge & Dining Room furniture
Paint & Wallpaper
Furniture & Beds
Spas & Hot tubs
Stoves
Tools & Fixings
La Collette
Plumbing & Heating supplies for Commercial & Domestic Projects
Building Materials for the Construction Industry
Opening Times
Dumaresq Street Retail Store
Monday – Saturday: 8am – 5.30pm
La Collette Trade Centre
Monday – Friday: 7am – 5pm
Saturday: 7am – 2pm